✅ Minecraft versions: 1.19.3 - 1.19 | 1.18.2 - 1.18

👤 Author(s): Biban_Auriu

🔩 Modloader: Forge and Fabric

📦 Download Towns and Towers
---
---
Let us introduce you to the Towns and Towers mod. Of course, Minecraft is a great game, but we need more content! You may argue that we don't, but we do! The number of terrain and item-generating mods available indicates we really do. These kinds of mods are always enjoyable to have because they not only provide you with new things to do and places to visit, but they also make the entire world of Minecraft feel more alive! Vanilla Minecraft provides meaningful activities such as mining, building, attacking mobs, raiding boss monsters, and so on, but we can all agree that once everything is done, we are left with nothing.
Mods that add new items, locations, and biomes provide new content to the game, giving you more reasons to play it. That's just how things work. That is one of the best aspects of Minecraft. It enables players to personalize the game based on their preferences. Some mods add machines that make the game more automated, which is ideal for those who want to tinker with things and possibly become engineers someday. Some mods include cooking tools and materials, which are ideal for those who enjoy following recipes. And some mods generate terrains such as massive mountains, volcanoes, and other massive structures that simply change the way you see the game!
Jump into the game and conquer them all!
Towns and Towers is a world generation mod that aims to give villages and structures more variety. It is an excellent mod for those who enjoy exploring new structures in search of chests or converting them into bases by renovating them to their liking. It's an amazing feeling to run into structures in-game. Remember how you felt the first time you came across a woodland mansion? It's natural to want to make that location your permanent home.

You raid the location several times until you claim it as your own. Oh, the thrill of capturing bases! Town and Towers introduce new structures that are worth your time if you want to make them your own! With all the new structures, you'll have plenty of options. This mod brings the regular villages to life by making them more in tune with their surroundings. You must try this mod to appreciate everything it brings to the table.
A variation of structures like no other
Towns and Towers introduce new variations of villages that are certainly eye-catching. Villages made of cobblestones and bricks, villages with primitive huts and cabins, villages that resemble a treehouse system, and villages that appear chaotic and overgrown. These structures all get their aesthetics from the biomes from which they spawn, which is a really cool feature. Imagine combining this mod with terrain-generating mods like Terralith.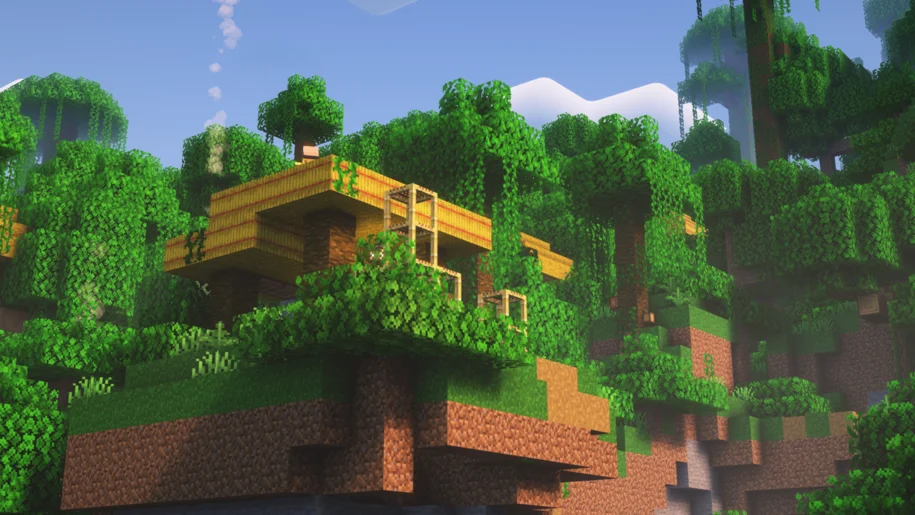 There will be structures that resemble a family-owned barn, complete with a windmill. A bustling city with cramped houses and villagers who appear to be very productive. Towns with Japanese-inspired houses, complete with pagoda-like structures, are also a sight to behold. This texture pack also includes 15 different pillager outposts. Some resemble towers, forts, and campsites, with the appearance varying depending on the biome in which they spawn. These structural variations are simply amazing! What are you waiting for? Download the mod here today!
 Video Review
Your video review of the Towns and Towers Mod here? Contact us!
---
Download Towns and Towers for Minecraft 1.19.3
✔ These download links will take you to the official download page(s) for Towns and Towers Mod. McModspot.com does not host or alter these downloads in any way. It is possible for download links to break over time, when creators make changes to the original pages. Feel free to message us in case one or more links stop working.
Mods require Forge or Fabric to work properly. Forge and Fabric are mod loaders which allow you to load and use mods in Minecraft. If you don't know how to install a mod loader and mods, use the tutorial below.
Installation
First, you need to download Forge Modloader.
Once it has finished downloading, you open the file and install Forge.
Now select the Forge mod loader profile in the Minecraft Launcher and click play.
If you want to add mods, click "Mods" in the main menu, and click Open Mods folder. Drag in your Forge mods, they will be loaded the next time you launch Minecraft.
If you need more help to install mods, use these tutorials.
⚙ How To Install Forge 1.19.4
⚙ How To Install Fabric 1.19.4