✅ Minecraft versions: 1.19.4, 1.19.2 - 1.19, 1.18.2 - 1.18

👤 Author(s): Starmute

🔩 Modloader: Forge and Fabric

📦 Download Nullscape Mod
---
---
The Nullscape mod is a fantastic mod that completely overhauls the End. It was created by the same person who created Terralith and Incendium, two of the best mods ever made to add depth and realism to the overworld and nether. The mods do so by adding biomes and improving overall terrain generation in the Minecraft world.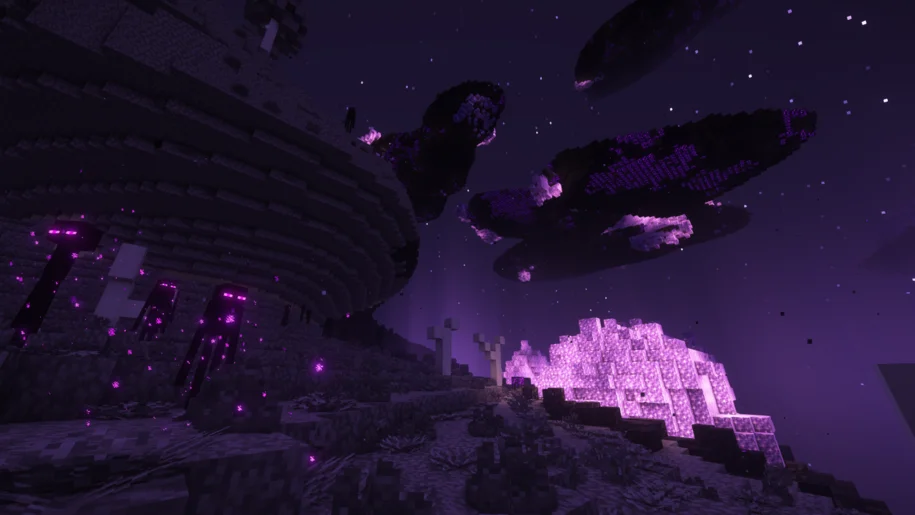 This mod raises the End to 384 blocks in height. This feature changes the appearance of the End dramatically because it is no longer flat. Islands can now be found floating above or below you. In addition, this mod adds 15 new biomes to the End and improves the vanilla ones. This mod has greatly increased the variety of terrain within the End.
Repurposed blocks and better terrain generation
Nullscape, like the Terralith mod and Incendium, does not add any new blocks to the game, instead, it makes use of the blocks that already exist in vanilla Minecraft. Even so, because of the improved terrain generation, everything still looks new and exciting. It's also cool when a mod adds new blocks to the game, but this mod does not need any of that. There are advantages to not using new types of blocks.

Nothing will look out of place if you use a resource pack, because when you use a resource pack and mods at the same time, the visual styles may occasionally crash. You can also run this mod on a server, and anyone with a vanilla client can easily join. Finally, you can combine this mod with Terralith and Incendium to add so much variety to your game that you won't even want to install other texture packs or mods. Simply use a good shader to bring all of these mods to life.
Amazing with shaders
Nullscape also includes repurposed ambiance in addition to the newly created biomes. It accomplishes this by utilizing resources already present in the game. Ambience tweaks are something we really need in Minecraft, and Nullscape does an excellent job. This mod makes the End feel much more foreboding. It adds to the dimension's overall feeling of being alone in space. Running this mod alongside vanilla Minecraft can provide some excitement, but running around the end without any shaders may leave you feeling like everything is repetitive.

If you want to improve the appearance, you should definitely try BSL Shaders or Complementary Reimagined. BSL Shaders and Complementary Reimagined look fantastic in all dimensions, including the end. The visuals become much more interesting when combined with this mod. You'll notice how versatile this combination is. You don't have to settle for a dull End with this mod. Level up your End game by downloading the Nullscape mod right now!
 Video Review
Your video review of the Nullscape Mod here? Contact us!
---
Download Nullscape Mod for Minecraft 1.19.4
✔ These download links will take you to the official download page(s) for Nullscape Mod. McModspot.com does not host or alter these downloads in any way. It is possible for download links to break over time, when creators make changes to the original pages. Feel free to message us in case one or more links stop working.
Mods require Forge or Fabric to work properly. Forge and Fabric are mod loaders which allow you to load and use mods in Minecraft. If you don't know how to install a mod loader and mods, use the tutorial below.
Installation
First, you need to download Fabric Modloader.
Once it has finished downloading, you open the file and install Fabric.
Now select the Fabric mod loader profile in the Minecraft Launcher and click play.
If you want to add mods, locate your .minecraft folder (on Windows, press Win+R and enter %appdata%).
Find or create a folder called "mods". Drag in your Fabric mods, they will be loaded the next time you launch Minecraft.
If you need more help to install mods, use these tutorials.
⚙ How To Install Forge 1.19.4
⚙ How To Install Fabric 1.19.4