✅ Minecraft versions: 1.19.4 - 1.19, 1.18.2 - 1.18, 1.17.1 - 1.17 | 1.16.X - 1.12.X, 1.11.X - 1.7.10

👤 Author(s): Vazkii, williewillus, and Alwinfy

🔩 Modloader: Forge and Fabric

📦 Download Neat Mod
---
---
Let's admit it: when we first started playing vanilla Minecraft, we all needed some help through online guides and walkthroughs. You had to figure out what mobs you were dealing with, how much hp they have, and what type of weapon is most effective against them. The concept of having information bars on top of a mob was introduced during the MMORPG era. Its aim is for one to be able to measure the damages certain weapon types can deal to specific mobs.
An additional RPG element
The Neat mod is a Forge and Fabric mod you can add to Minecraft. It gives you an information bar on top of mobs, which adds a bit of an RPG element to the game. The information bar includes the mob's name, their health points percentage, and some attributes pertaining to a specific mob.

This information may not be that useful when encountering small weak mobs but will surely be useful when fighting mini-bosses and boss mobs such as the Illager Patrol, Elder Guardian, Wither, and Ender Dragon. Having this mod installed and being applied in-game gives you the support of planning a retaliation just in case you fail to defeat a certain boss. Having the ability to measure their health and prepare the equipment that will most likely be more effective against them is definitely a neat feature.
How to install
This mod requires Forge to be installed first. We have a useful guide on how to do that below this page. Recently, a Fabric version was released, but since the Forge version has about 60 million more downloads, we'll cover Forge for now.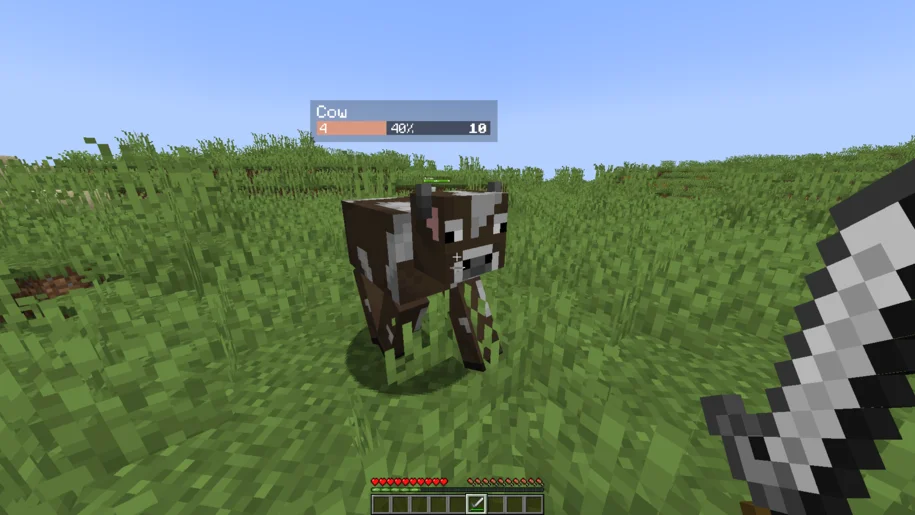 Once you have Forge installed, you can simply download this mod's .jar file below and then copy and paste that file into your mods folder. In order to do that, first, you have to go to your windows search bar, type in "%appdata%" and then hit enter. A window will then open containing the folder ".minecraft". Open that folder, then locate the "mods" folder. If you do not have the mods folder yet, simply right-click on an empty space inside the .minecraft folder, then click "New Folder". Rename that folder to "mods" and then you can use that folder to save your Neat mod file.
 Video Review
Your video review of the Neat Mod here? Contact us!
---
Download Neat Mod for Minecraft 1.19.4
✔ These download links will take you to the official download page(s) for Neat Mod. McModspot.com does not host or alter these downloads in any way. It is possible for download links to break over time, when creators make changes to the original pages. Feel free to message us in case one or more links stop working.
Mods require Forge or Fabric to work properly. Forge and Fabric are mod loaders which allow you to load and use mods in Minecraft. If you don't know how to install a mod loader and mods, use the tutorial below.
Installation
First, you need to download Forge Modloader.
Once it has finished downloading, you open the file and install Forge.
Now select the Forge mod loader profile in the Minecraft Launcher and click play.
If you want to add mods, click "Mods" in the main menu, and click Open Mods folder. Drag in your Forge mods, they will be loaded the next time you launch Minecraft.
If you need more help to install mods, use these tutorials.
⚙ How To Install Forge 1.19.4
⚙ How To Install Fabric 1.19.4