✅ Minecraft versions: 1.19.2 - 1.19, 1.18.2 - 1.18.1, 1.17.1 - 1.17 | 1.16.5 - 1.15.2

👤 Author(s): Texelsaur

🔩 Modloader: Forge

📦 Download Storage Drawers
---
---
Many people enjoy the ability to organize items in Minecraft. The Storage Drawers mod will make this so much easier. It is always desirable to be able to sort items according to certain attributes such as function, color, size, class, and so on. Storages were added to Minecraft so that players could ensure that their inventory had enough space for the items they looted while mining or looting mobs. However, when it comes to categorizing items, these storage items in vanilla Minecraft don't have many options.

There are many decoration mods which make storage more functional and to give players more customization options. We can all agree that the majority of what we do in-game is fast-paced, and having the ability to grab and store items on the fly is a feature we all want. Therefore, nobody has time to open chests one by one to get the items they need, and few players have time to memorize which chest contains which item. This is why mods that improve the functionality of storage items are made.
Like organizing stuff? Try this mod
The Storage Drawers mod is one of the best mods in this category. Storage Drawers is a mod that allows players to keep their most frequently used items close at hand. Storage Drawers is inspired by Jabba and Bibliocraft, two leading mods that provide players with a plethora of storage and item organization options. This mod takes this inspiration and turns it into a highly functional, compact, and aesthetically pleasing storage solution. This inspiration is meant to supplement, not replace, those mods.
The mod integrates well with other mods and is simple to use. Insert a full stack in hand into a drawer by right-clicking it, or a partial stack if the drawer is full. Double-right-click a drawer to insert all compatible stacks in inventory, or until the drawer is full. To remove a single item from a drawer, left-click it. To remove a full stack from a drawer, use Shift+left click. While Steve isn't holding anything, Shift+right-click to open a UI to see exact item counts and manage applied upgrades.
Other useful features
This mod also includes new blocks such as blocks that aid players in automating the sorting of their items. Compacting drawers are stone-colored drawers that convert compressible items automatically, which allows you to put gold blocks, ingots, and nuggets in a compacting drawer instead of manually crafting and uncrafting them. Drawer Controllers are the mod's second special block. They will look for any connected drawer within 12 blocks and expose all of them as a large combined inventory. Controller Slaves act as a drawer controller's extension, exposing more faces for attaching machines, pipes, or crafting frames.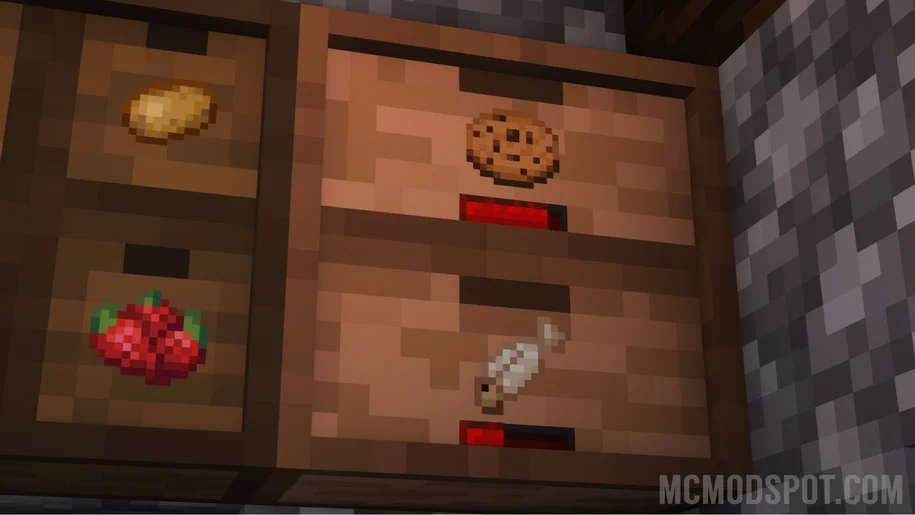 When a controller finds a slave on the network, it will bind to that slave, and all slaves bound to the same controller will share the same inventory and range as that controller. Trim blocks are decorative wood paneled blocks that look like wooden drawers and can be used to connect drawer blocks within a controller network. With all of these features, there's no reason not to download and install this mod if you want to organize your items. What exactly are you waiting for? Download Storage Drawers right now!
 Video Review
Your video review of the Storage Drawers Mod here? Contact us!
---
Download Storage Drawers for Minecraft 1.19.2
✔ These download links will take you to the official download page(s) for Storage Drawers Mod. McModspot.com does not host or alter these downloads in any way. It is possible for download links to break over time, when creators make changes to the original pages. Feel free to message us in case one or more links stop working.
Mods require Forge or Fabric to work properly. Forge and Fabric are mod loaders which allow you to load and use mods in Minecraft. If you don't know how to install a mod loader and mods, use the tutorial below.
Installation
First, you need to download Forge Modloader.
Once it has finished downloading, you open the file and install Forge.
Now select the Forge mod loader profile in the Minecraft Launcher and click play.
If you want to add mods, click "Mods" in the main menu, and click Open Mods folder. Drag in your Forge mods, they will be loaded the next time you launch Minecraft.
If you need more help to install mods, use these tutorials.
⚙ How To Install Forge 1.19.4
⚙ How To Install Fabric 1.19.4