✅ Minecraft versions: 1.19.2 - 1.19, 1.18.2 - 1.18, 1.17.1 - 1.17 | 1.14.4 - 1.14

👤 Author(s): DenisMasterHerobrine

🔩 Modloader: Forge

📦 Download Angel Ring
---
---
Wouldn't it be great if you could fly in survival mode the same way you can in creative mode? The Angel Ring mod let's you do just that! The ability to fly is extremely useful, especially if you enjoy scouting an area before deciding to settle and build a base. You can also use flight to locate biomes that contain specific materials you require for crafting. Flight is a necessary skill for everyone, but it is such an overpowered ability that it should only be obtained later in the game.

If all players obtain flight early in the game, it could be a huge unfair advantage. In fact, if you had the ability to fly early, the following hours of gameplay would probably be so boring that you might not want to play at all. Consider playing in creative mode for hours on end with no goal in mind. You're just floating around, building things from your inventory with no particular goal in mind. That would be the case if you had a flight skill in survival mode right away. Everything will be so simple to obtain. Every location is reachable in less time. Overall, "flight" is a useful skill to have if you've already done the grunt work of creating things from scratch.
How to fly using Angel Ring
The Extra Utilities 2 mod added the Angel Ring item. RWTema created the Extra Utilities 2 mod. It's a mod that adds a variety of random blocks and items to the game, such as generators, utilities, decorative blocks, and so on. It is the sequel to the Extra Utilities mod. The Angel Ring is a magical ring that allows the wearer to fly creatively. It appears to be a golden halo that you can equip to gain flight. Passively, it consumes 64 Grid Power (GP).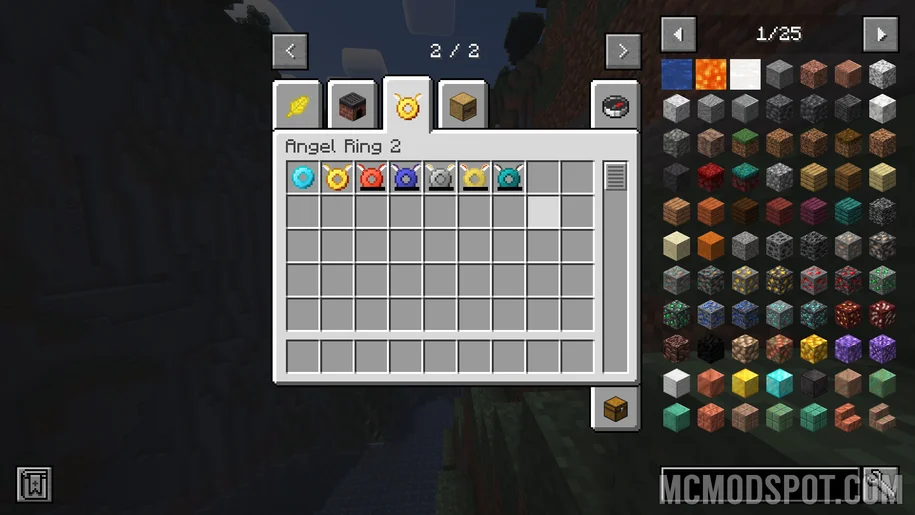 Hitting the jump key twice propels the player into the air for a short distance. Holding the jump key will cause the player to ascend while holding the sneak key will cause them to descend. The Angel Ring comes in six variations, each with a unique appearance. The base ring provides no visible support. The other five have various types of wings. Variants can be chosen when crafting the ring for the first time, or the ring can be recrafted at any time.
A variety of wing skins
One of the wings resembles a golden archangel wing and is likely the best-looking wing in this mod. It has a translucent design that gives it the feel of a "herald of light". Another wing resembles a bat wing and is most likely the opposite wing to the first. It's a combination of red and black color hues that give it a "dark lord" vibe. These two wings are ideal for role-playing in the game. There's also a white butterfly wing for those who want to transform into a cute flying fairy. Another wing resembles a jetpack and is ideal for those who prefer a more technological appearance.
This mod does not only add flight functionality. It also does it in a visually appealing manner. Whatever your goal is in using this mod, make sure to pair it with other awesome mods to get the most out of your flight in-game. Download Angel Ring today if you want to add a flight mod to your game! Angel Ring is a free and lightweight mod that anyone can enjoy. Hurry! Please follow the link below!
 Video Review
Your video review of the Angel Ring Mod here? Contact us!
---
Download Angel Ring for Minecraft 1.19.2
✔ These download links will take you to the official download page(s) for Angel Ring Mod. McModspot.com does not host or alter these downloads in any way. It is possible for download links to break over time, when creators make changes to the original pages. Feel free to message us in case one or more links stop working.
Mods require Forge or Fabric to work properly. Forge and Fabric are mod loaders which allow you to load and use mods in Minecraft. If you don't know how to install a mod loader and mods, use the tutorial below.
Installation
First, you need to download Forge Modloader.
Once it has finished downloading, you open the file and install Forge.
Now select the Forge mod loader profile in the Minecraft Launcher and click play.
If you want to add mods, click "Mods" in the main menu, and click Open Mods folder. Drag in your Forge mods, they will be loaded the next time you launch Minecraft.
If you need more help to install mods, use these tutorials.
⚙ How To Install Forge 1.19.4
⚙ How To Install Fabric 1.19.4