✅ Minecraft versions: 1.19.2 → 1.19, 1.18.2 - 1.18, 1.17.1 - 1.17, 1.16.5 - 1.16 | 1.15.X - 1.12.2, 1.10.2, 1.8

✅ Author: Alexbegt

📦 Download Iron Chests
---
---
Iron Chests is a mod that adds new chests to Minecraft. It allows you to upgrade existing chests and create stronger and bigger chests. With each tier of chests, you get some additional storage space.
Bigger chests
In vanilla Minecraft, there are only a few options when it comes to item storage. You can use a regular or ender chest, a barrel or a shulker box. Now whilst these are all useful in their own ways, they have one thing in common: they all contain 27 item slots, which means storage with each of them is limited.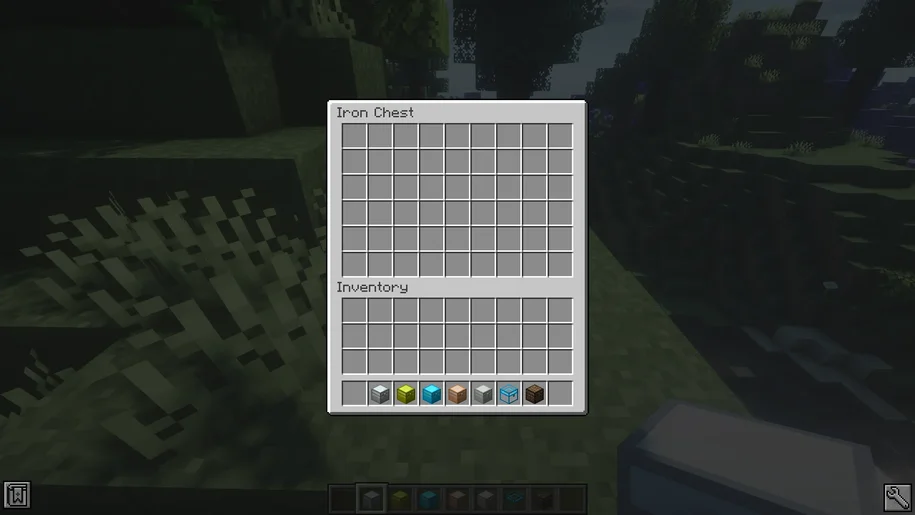 With the Iron Chest 1.19 mod, you unlock new types of chests, ranging from iron to diamond chests. The mod also includes support for mods that add materials such as bronze and silver. The great thing about these new chests is that each of them come with more storage space. With the iron chest being the cheapest to craft, you will get double the amount of storage space. With the diamond chest, you're looking at four times (!) the amount of storage space compared to a regular chest.
More storage space, same size
These new chests will cost more resources to craft, but it will totally be worth the storage space you get in return. If you thought the iron, gold or diamond chests were any bigger than a regular chest, you're so wrong! The chests have the exact same size as a regular chest, whilst being able to many more items. So instead of the regular 27 slots you get in a single chest, you can now have up to 108 slots; in ONE single chest.

Even though all chests are craftable, usually by combining a lower tier chest with new materials, it is also possible to craft a 'Chest Upgrade'. Using a chest upgrade you can right-click an existing chest to upgrade it to the next tier.
Video Review
Your video review of Iron Chests here? Contact us!
---
Download Iron Chests for Minecraft 1.19.2
✔ These download links will take you to the official download page(s) for Iron Chests. Shaderpacks.net does not host or alter these downloads in any way. It is possible for download links to break over time, when creators make changes to the original pages. Feel free to message us in case one or more links stop working.
Mods require Forge or Fabric to work properly. Forge and Fabric are mod loaders which allow you to load and use shaders in Minecraft. If you don't know how to install a mod loader and mods, use the tutorial below.
Installation
First, you need to download Forge Modloader.
Once it has finished downloading, you open the file and install Forge.
Now select the Forge mod loader profile in the Minecraft Launcher and click play.
If you want to add mods, click "Mods" in the main menu, and click Open Mods folder. Drag in your Forge mods, they will be loaded the next time you launch Minecraft.
If you need more help to install mods, use these tutorials.
⚙ How To Install Forge 1.19+
⚙ How To Install Fabric 1.19+