✅ Minecraft versions: 1.19.4 - 1.19, 1.18.2 - 1.18, 1.17.1 - 1.17 | 1.16.5 - 1.14.4

👥 Author(s): TheIllusiveC4

🔩 Modloader: Forge, Fabric, and Quilt

📦 Download Comforts Mod
---
---
The Comforts Mod is a mod that adds two new types of beds to Minecraft. The portable sleeping bag allows you to sleep almost anywhere, whereas the hammock can only be used to take a nap during daytime.
Sleeping bag
The mod, which is available for both Forge and Fabric, adds new ways of sleeping to the game. Both the sleeping bags and hammocks can be used like regular Minecraft beds. In a survival situation, the sleeping bag is the most useful of the two.

It is incredibly easy to craft, requiring only three wool. You can place it almost anywhere in your world, and best of all, both the sleeping bags and hammocks do not a new spawn point. This means, especially sleeping bags are perfect for sleeping on the go, because sleeping in them will not remove your spawn point at your base.
Change time of day
Just like regular beds in Minecraft, sleeping in a sleeping bag will forward to daytime. Another neat feature of sleeping bags is that you will automatically fall asleep upon placing the sleeping bag, saving you precious time.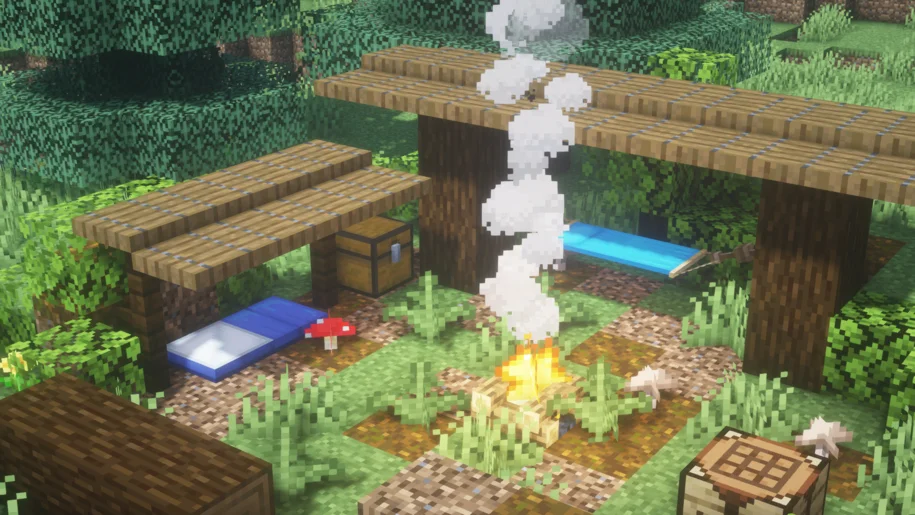 The hammock on the other hand is more of a luxury item, which looks cool. Just like the sleeping bag, it is available in 16 different colors. Hammocks require more material to be set up.
You will need to set up a frame with at least two supporting logs, which, as of a recent update, no longer have to be actual trees. By crafting a set of Rope & Nail and securing these on either end of the setup, you can now right-click one of the ropes, whilst holding a hammock, to attach it. Instead of turning night to day, you can only use a hammock during daytime, and when doing so it will forward time to sunset.
Video Review
Your video review of Comforts Mod here? Contact us!
---
Download Comforts Mod for Minecraft 1.19.4
✔ These download links will take you to the official download page(s) for Comforts Mod. McModspot.com does not host or alter these downloads in any way. It is possible for download links to break over time, when creators make changes to the original pages. Feel free to message us in case one or more links stop working.
Mods require a mod loader to work. You can use Forge or Fabric to load mods in Minecraft. Also, note that most mods will only work with one of the two! If you don't know how to install Forge or how to install Fabric, use the tutorials below.
Installation
First, you need to download Forge Modloader.
Once it has finished downloading, you open the file and install Forge.
Now select the Forge mod loader profile in the Minecraft Launcher and click play.
If you want to add mods, click "Mods" in the main menu, and click Open Mods folder. Drag in your Forge mods, they will be loaded the next time you launch Minecraft.
If you need more help installing Forge, use this tutorial.
⚙ How To Install Forge 1.19.4
⚙ How To Install Fabric 1.19.4