✅ Minecraft versions: 1.19.4 - 1.19, 1.18.2 - 1.18, 1.17.1 - 1.17 | 1.16.X - 1.12.2

✅ Author: Macawb

📦 Download Macaw's Doors
---
---
Macaw's Doors focuses on adding more door designs to your vanilla Minecraft. These doors not only provide new aesthetics but also add functionality to the game. This mod is a perfect addition to all of Macaw's mods which aim to add more windows, furniture, and all sorts of pretty and useful items and decorations.
New designs
Every type of wood used in the game is now available as a door variety in Macaw's Doors. The doors are available in brand-new designs to accommodate any requirements for your structures. Doors have various cutouts engraved onto them to supplement the game's existing designs. To adapt vanilla designs to various wood types, the mod includes an object called door prints.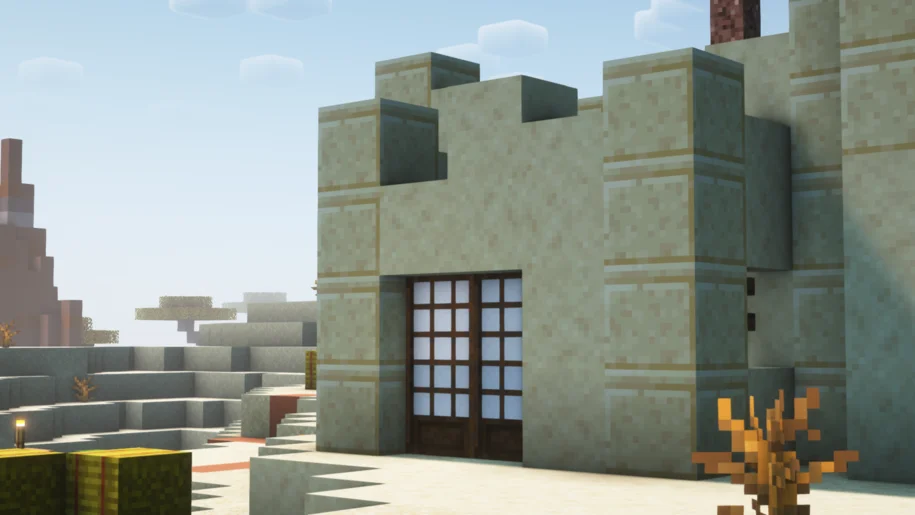 Now you may combine your chosen vanilla design with any sort of wood. To create a print of that design, simply construct the original door and add four sheets of paper. Apply that to the kind of wood you want, and there you have it!
New exciting doors for your structures
You can even pick from a variety of door styles to further distinguish your structures with more open entrance concepts. This modification also includes Shoji sliding doors, a traditional Japanese door with a beautiful opening characteristic that aesthetically appears to occupy less space. It has a very clean, traditional design. Additionally, this mod provides extra options for industrial constructions and upgrades to metal doors.
They can be made with a variety of windows, and push bars and security decals even make them look more realistic. Additionally, a jail door option is available to contain or deter mobs.
Macaw's Doors are a must-have, especially for those who are fond of creating their structures with aesthetics in mind. This mod solves the problem of having a limited option of doors in vanilla Minecraft. If you would like to build beautiful structures with beautiful doors, then make sure to check out Macaw's Doors!
---
Download Macaw's Doors for Minecraft 1.19.4
✔ These download links will take you to the official download page(s) for Macaw's Doors. McModspot.com does not host or alter these downloads in any way. It is possible for download links to break over time, when creators make changes to the original pages. Feel free to message us in case one or more links stop working.
Mods require Forge or Fabric to work properly. Forge and Fabric are mod loaders which allow you to load and use mods in Minecraft. If you don't know how to install a mod loader and mods, use the tutorial below.
Installation
First, you need to download Forge Modloader.
Once it has finished downloading, you open the file and install Forge.
Now select the Forge mod loader profile in the Minecraft Launcher and click play.
If you want to add mods, click "Mods" in the main menu, and click Open Mods folder. Drag in your Forge mods, they will be loaded the next time you launch Minecraft.
If you need more help to install mods, use these tutorials.
⚙ How To Install Forge 1.19.4
⚙ How To Install Fabric 1.19.4