✅ Minecraft versions: 1.19.2 - 1.19, 1.18.2 - 1.18.1, 1.17.1, 1.16.5 - 1.16 | 1.15.2

👤 Author(s): vectorwing

🔩 Modloader: Forge

📦 Download Farmer's Delight
---
---
Farmer's Delight is a Minecraft mod that gradually expands on farming and cooking. The ability to gather ingredients and cook is probably one of the game's most popular features. Minecraft is such a large game with so many things to do that it is not solely focused on cooking. However, there are a few players who wish to become chefs in-game.
Food is any consumable item that, when eaten, restores hunger points and hunger saturation points while also occasionally causing status effects. They are necessary for survival, as going without them causes the player to starve. In Hard and Hardcore Mode, starvation damage kills the player. Food is without a doubt one of the most important items in the game. Players are effectively immobile without it. One cannot fight mobs without HP, and HP is obtained by eating food. Food also provides other status effects that aid players in their daily grind. The quality of the food you can eat is determined by your cooking skills.
Many players want to either be the best chef in the game, or simply need more food options. This is why food mods were developed. They encourage players who enjoy memorizing food recipes to become the best cooks possible, and they add more food options to help players achieve other in-game goals.
More food items on the menu
With the Farmers Delight Mod you'll be able to prepare a wide variety of hearty meals using a simple cooking system and a few familiar ingredients, which means more food options are available to those who want them. From sandwiches to salads and stews, to beautiful desserts and mouth-watering feasts, Farmer's Delight ensures that you make the most of every ingredient available in the kitchen!
It also introduces a plethora of utilities for improving the quality of the soil in which your crops grow, a brand new type of tool for scavenging resources, a slew of cute decorations for your kitchen and farm builds, and a plethora of other blocks and items to assist you with your mob grinds, mining, and building! Farmer's delight will undoubtedly give players more to do!
Additional tools to help you in your daily grinds
One of the most exciting aspects of the mod is the ability to craft various knives. These knives can be used for everything from cooking to harvesting to fighting mobs! Using these tools also increases your loot from killing animals and harvesting crops. These additional loots provide you with a new set of items to craft, giving you a significant advantage in-game. The rope is one of these items. In the absence of ladders, you can use a rope to descend from high places such as caves.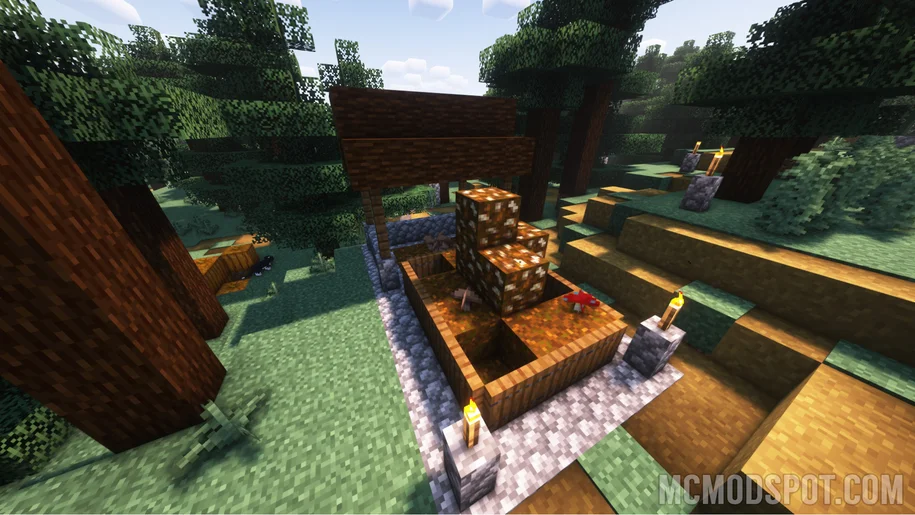 Another item is a safety net, which can be used to prevent fall damage if you fall from a very high place. Cooking pots are the mod's main highlight; this handy tool is what allows you to cook additional food items in-game, so aim to craft one early! Farmer's Delight mod, as the name implies, is a delightful mod for aspiring chefs and farmers. Bring out your inner Gordon Ramsay by downloading Farmer's Delight right now!
Video Review
Your video review of the Farmer's Delight Mod here? Contact us!
---
Download Farmer's Delight for Minecraft 1.19.2
✔ These download links will take you to the official download page(s) for Farmer's Delight Mod. McModspot.com does not host or alter these downloads in any way. It is possible for download links to break over time, when creators make changes to the original pages. Feel free to message us in case one or more links stop working.
Mods require Forge or Fabric to work properly. Forge and Fabric are mod loaders which allow you to load and use mods in Minecraft. If you don't know how to install a mod loader and mods, use the tutorial below.
Installation
First, you need to download Forge Modloader.
Once it has finished downloading, you open the file and install Forge.
Now select the Forge mod loader profile in the Minecraft Launcher and click play.
If you want to add mods, click "Mods" in the main menu, and click Open Mods folder. Drag in your Forge mods, they will be loaded the next time you launch Minecraft.
If you need more help to install mods, use these tutorials.
⚙ How To Install Forge 1.19.4
⚙ How To Install Fabric 1.19.4